This is from a guy who runs a blog and chatango chatterbox which reports every time the nedrauk channel goes live. There is rarely anything in the chatterbox until my channel is live, but there are up to 20 users listed there, almost 100% as "anons"
I have been 68 since February and the site referred to was set up when I was 54. I have made NO claims to have ever been a bodybuilder, but was a gym member for some time. The images are still on the site and are not offensive. The youngest on the right was a gymnast. How on earth do gymnasts in late teens become so good without starting younger? The rear view shot shows nothing offensive. The use of the term "young boys" is deliberately misleading. The source I refer to ** gives a suggested starting age of 13 and then only using light weight or bodyweight.
AS to the "window cam" suggestion. The camera is NEVER on when the "children are going to school" That would have to be 9.00 or sooner as schools open at that time. Afternoon times follow from when I watch TV in the week. On Saturdays I'm shopping!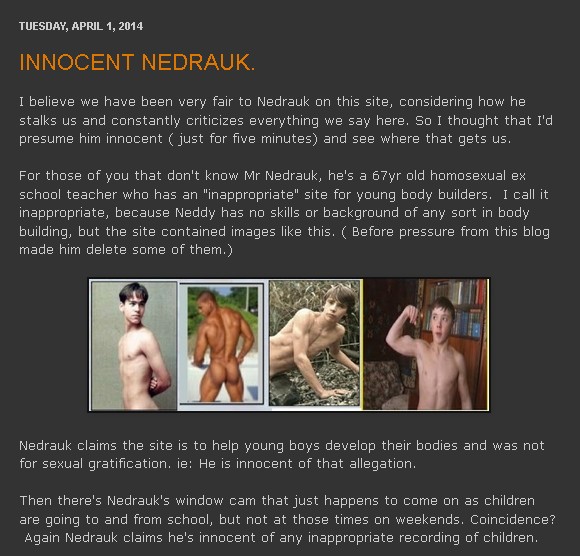 The last statement above is quite ridiculous! Yet another flight of imagination by these chatterboxers who are clearly stalking my broadcasts and reading into them things which are simply not there. Look up how many of those broadcasts are archived!